I wanted to bring to your attention Vancouver's lovely, lonely 'Monument to Nothing,' whose emptiness is free for all to adore and onto which, in the eye of our minds, we can project the objects of our deepest adulation. I'm standing in its sunken piazza, watching an empty shopping cart rattle against the circular steps with the tail wind of every passing transport truck. The pavement shudders and the diesel soot billows in the tormented air like the thought bubbles of demons. Around me, a ring of brutalist concrete tees that stand astride stymied balls of topiary. A nod perhaps to the Roman colosseum or the classical amphitheater? But then again, maybe not.
I love this place. I came here on a pilgrimage to remember the things I never knew. Like the silverfish, which can live for a year without eating but prefer instead a diet of dandruff and carpet fibers. I remember a bronze head that was never here. I'd thought I'd seen it years ago, out of the corner of my eye, a jowly visage in medieval headgear. I even took it for granted. But no, it wasn't. Not ever. Here.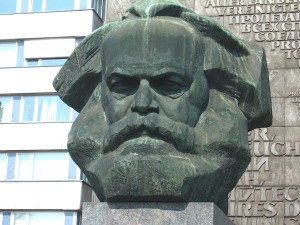 Karl Marx's head was never here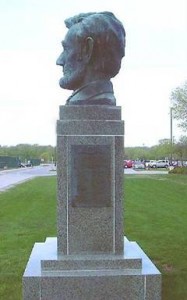 Lincoln's head was never here either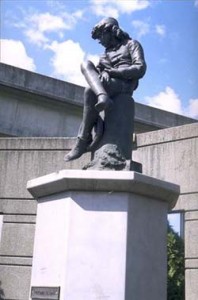 he was here for a while
What was here, though? I felt the need for research, which always feel like the man rolling up his sleeve about to slide his wrist into the cheesecloth cage of hungry mosquitoes. "They don't bite – they don't even light!" Only sometimes they do. And then you die. Of malaria. Or dengue fever. Or any of the other assorted little ills that, if you are famous enough in life, might get a monument to you erected after you kick the bucket. Take Christopher Columbus – Admiral of the Ocean Sea; Viceroy and Governor of the Indies. We don't know how he died. Maybe it was syphilis, the vexing stowaway that snuck its way to Europe in the pants of his sailors.  It was this Columbus who, once upon a much later time, sat for a while, perched on a lonely plinth, gazing out wistfully over Clark Drive's seething traffic, a continent away from the sea he once crossed, his back turned to another ocean – the one he never imagined in his lifetime. And not just his disembodied head, the way I'd misremembered it, but his entire gangling body too, as it appeared, or was thought to have appeared in the days of his callow youth, when he was just a proto-Columbus, who hadn't yet sailed the ocean blue, or even likely thought about it. Is that nothing? It's not nothing, but it's barely something. Soon barely something became nothing again, when the sculpture disappeared, seconded by a cadre of mysterious Italian-Canadian aesthetes who kept the bronze boy wonder sequestered for several months before relocating him to the more commodious environs of Hastings Park. So Clark Drive's monument to nothing remains as such, free from any distracting somethings, empty and beautiful for all of us to think about that which once was but is no longer or maybe, never was at all.