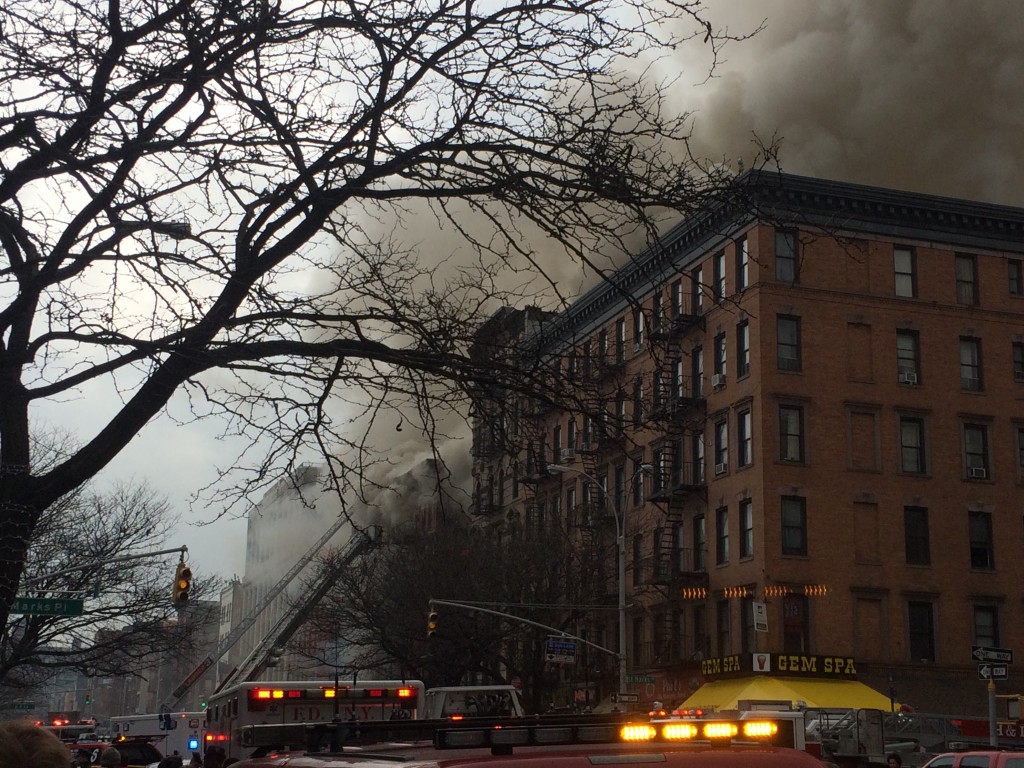 So I was walking westward along East 10th St. early in the afternoon, feeling a little jet-lagged, having just got back to NYC after a month's stay in Berlin.  Moments before I'd said goodbye to Ruth as she boarded the M8 bus on her way to the West Village.
My first day back in a place I've been away from for a while can feel fresh and full of possibility, though I noticed that winter had been very slow to release its grip on old NYC this year and the sky was still grey, the trees unpromisingly bare and the sparrows disheveled as they pecked at a pizza crust along the sidewalk. A sudden rumble percussed the air – disconcerting louder than the usual construction noise, the ground shaking.  My iPhone buzzed with an incoming text:
Ruth: "Did you hear that?"
Oliver: "Yes I did."
She calls and tells me the people getting on her bus are talking about some kind of explosion.
"It's probably nothing," I said, (as if I knew what I was talking about)
But New York is an incredibly noisy place and one gets used to the din of sirens, pile drivings, and demolition noise that punctuates the background infrasound of thrumming traffic, the vibration of subways and the whoosh of steam conveyed through pipes hidden under the street.
So that was that, I thought and ducked into the barber shop I always go to 2nd Ave, to get a hair cut. It wasn't busy and I hardly have any hair so it took only a few minutes to restore my stubble and by the time I got out, I could see grey smoke billowing up a short distance down the avenue, just south of the venerable Gem Spa news stand. A crowd had gathered and the first emergency vehicles were rolling in.
There is something horribly magnetic about a fire and I found myself heading toward it without even really thinking; though it was, broadly speaking, on my way home.
The intensity and volume of the smoke was getting worse by the minute and by the time I was a block closer, the fire department had deployed its high ladders and were blasting water from above onto the five story tenement, which by now was almost completely engulfed with the fire spreading to the adjacent.  From that point on things moved very quickly, and in a few minutes we were being herded backward from the existing police cordon, at which point the intitial building blew up. It was surreal, horrible and one felt completely helpless knowing that what was happening, what one was seeing at that moment likely involved the loss of life – how could it not? Some of the onlookers were already sobbing or frantically calling or texting loved ones they thought might be in the vicinity and were not yet accounted for.
I exchanged a few words with the long time East Village character, Jim Power, a.k.a. the 'Mosaic Man', who had been darting in and out of the chaos on his motorized mobility scooter, sharing bits of news with onlookers and comforting the more obviously stricken. But what does one say in such a situation, other than to communicate one's concern for the victims, the shock that such a thing has indeed happened; that this unremarkable building, with its sushi place,  people's apartments, their stuff, their lives, a building like so many others, a place that one might have even taken for granted, a mere blip in the optical subconscious–unless of course one lived there, knew people there–had so abruptly been ripped from our midst?
I worked my way eastward, away from the fire scene, looking back at the roiling column of smoke that by now must have visible throughout Lower Manhattan. Everywhere I looked, people had stopped in their tracks. Even five blocks away, knots of people gathered on the street corners, pointing at the sky and shaking their heads; all of us one moment in the midst of our quotidian routines and then presented with the sudden spectacle of disaster. That night the media confirmed what many on the street had been speculating – that the explosion, which cost two lives and injured 22 people was due to illegal modifications to the gas lines in the building. A couple of weeks later I happened to speak with one of the ConEd workers  first on the scene and he lamented the criminally shoddy gas-fitting and shared  how furious and frightened he was at the many cases of dangerously careless workmanship he so often encounters in his job, and how this continues to put all New Yorkers at grave risk.
During the weeks that followed, as the ruins got pored over by teams of investigators and then proceeded to be gradually demolished, the intersection of 2nd Ave and 7th Street had the air of a grizzly carnival with satellite news trucks jammed into every available niche, television journalists recording their live spots against the backdrop of straining heavy machinery, mounds of simmering rubble and disaster tourists, posing for selfies – the tragic obliteration of half a city block endlessly mirrored in a mis en abyme of Instagram and Twitter updates; its cause, not terrorism as had been feared, but carelessness and callous indifference. And so Manhattan is left with yet another hole, a lacuna, which the forces of turbo-capitalism will soon fill. But with what?
Even without such tragedies, the streetscape of the East Village is changing so rapidly I am almost always in a state of cognitive dissonance, looking for familiar landmarks that have disappeared, seemingly overnight, subsumed by the juggernaut of gentrification. These are 'micro-worlds' complete with endemic communities, ways of being, and so many of them are being lost: the affordable mom-and-pop eateries, the Hispanic botanicas, the dive bars, the squats, the bait stores along Houston – even the cars parked on the streets belie a degree of conspicuous wealth that would have been unthinkable but a decade ago. Though still a diverse and vibrant place, the neighbourhood has lost much of its character, its eccentricity, and has morphed into a theme park of its former rough-hewn self. The blogger Jeremiah Moss tracks this steady diminishment in "Jeremiah's Vanishing New York", which reads as a chronicle of cultural extinction. But Moss hasn't given up and is at the vanguard of a resistance movement he calls  'Save New York' and he recently instigated a 'Small Biz Crawl' to help out vulnerable East Village businesses affected by the fire. But is authenticity, so reified, still authentic, or are have we fallen victim to some idealized nostalgia? The East Village at the dawn of punk rock was a much grittier, more menacing place with ubiquitous crime along with the cheap rents and opportunities for squatting. But it was this set of conditions that allowed a vibrant non-commercial culture to thrive, the fumes of which the East Village is still running on to this day. At some point though, this will be forgotten.
When small establishments close down and are replaced by banks and chain stores, a sense of 'placelessness' descends. The likes of Subway, Starbucks and Urban Outfitters are essentially machines, 'non-places,' as the critic Marc Augé puts it, interchangeable with others anywhere in the world provided they share the brand. The human interactions occurring within–optimized, efficient and perhaps even affordable, are insipid, anonymous and non-relational and I would argue, contributory to the epidemic of loneliness we are now facing. A sense of allegiance, a feeling of belonging to the local, a culture of identifiable place, is lost when that place becomes just another instantiation  of a globalized retail platform. When our every public interaction is imbued with overarching commerciality, we have a recipe for psychological disaster.
In her Guardian essay: 'The Future of Loneliness,' Olivia Laing makes the case that the internet, in particular social media, is the ultimate commercialized non-place, where the made-up-ness of one's on-line persona commodifies personal relationships into 'likes' and 're-tweets,' distancing the messiness, the imperfection of the real; resulting, says Laing: " in being looked at and not seen." We engage with each other in a state of 'hyper-anxiety' – constantly surveilled yet never understood.
Laing goes on to reference the quite excellent 'Surround Audience' exhibition now on at the New Museum, which for her epitomizes this anomic, yet narcissistic aesthetic. When I visited the show, the work most literally embodying the sense  of pervasive social isolation for me was the series of quarantine chambers designed by the Chinese artist Nadim Abbas,  entitled: Chamber 664, 665 and 666, each containing an abject sleeping bunk and some personal effects that can only be contacted  through a pair of thick rubber gloves – a metaphor it seems to me, as apt for ebola as it is for Facebook.
That this epidemic of loneliness, this feeling of 'not being seen', might have consequences far beyond individual indisposition is what the Marxist critic, Franco 'Bifo' Berardi, suggests in his provocative reflections – 'In the lonely cockpit of our lives' on the recent Germanwings crash,  by now widely believed to have been an intentional act by its co-pilot, Andreas Lubitz. For Berardi, neo-liberal capitalism, with its relentless competition and ubiquitous connectivity, is responsible for us running into the 'embrace of the black dog' – the system's demands have transformed our social lives into 'a factory of unhappiness of which it appears impossible to escape.'
He goes on to declare:
"(Lubitz) did what he did because he could not get rid of the unhappiness that has been devouring contemporary mankind since advertising began bombing the social brain with mandatory cheerfulness, and digital loneliness has been multiplying the nervous stimulation and encasing the bodies in the cage of the screen, and financial capitalism has been forcing everybody to work more and more time for the miserable salary of precariousness."
A more extreme form of Berardi's proposition was foreshadowed, in part violently, in the early 1970's, by the radical German therapist, Dr. Wolfgang Huber and his Socialist Patient's Collective, who believed that psychiatric disorders stemmed from the capitalist system and could only be cured by a turn to a Marxist society. Though the therapeutic aspects of Marxism as it has  thus far been applied can most charitably be described as 'mixed,' the psychological stress engendered as contemporary neo-liberalism subsumes all aspects of our lives into a pervasive, competitive commerciality need to be taken much more seriously. The system's increasing inhumanity, its emptiness, is clearly driving people crazy yet rarely do we critique its basic legitimacy.  Horrific events like the Germanwings crash may well be the symptom, not the disease.
The overwhelming sensation of diminishment in our working lives and in our relationships with each other is compounded in turn by the vertiginously decreasing finitude of the natural world on which our human institutions, our very lives, depend. We are bombarded with heartbreaking images of ending –the last male western white rhinoceros left in the world, with his abbreviated yet still too valuable nub of a horn, encircled in his placid grazing by a full-time phalanx of armed guards, there to protect him from poachers. We've reached the point where there is not a single territory on this planet where such a lonely and iconic creature could live out its life outside the market system. So it is doomed to die.
That we are in the midst of an anthropogenic 'Six Extinction' event is well known and the artist Brandon Ballengée (who I was in a show with at the Media Sanctuary in Troy New York last spring) recently produced a series of works called 'Frameworks of Absence' in which he represented the lacunae of extinction quite literally, by cutting the images of extinct creatures out of historical prints and burning them, leaving behind ghostly white absences amid backgrounds depicting their idealized habitats.
With or without extinction, climate change will create absences in what we have once held familiar. Researchers have recently estimated the velocity of climate change in temperate zones to be approximately a meter a day, poleward or upward; meaning that in a given nature reserve, the localities having now the coldest conditions will be hotter than the places that are now the warmest, within a hundred or so years – the mountaintops becoming as hot as the deserts they loom over are now, and so on. This means species requiring specific temperature ranges will have to migrate higher in latitude or altitude to survive, provided there are no barriers to movement, which in the real world is often not the case. Alpine and polar organisms will be particularly vulnerable, as they often already inhabit the extremes of what is topographically possible and will likely run out of accessible places to move – 'deterritorialized' literally, into oblivion.
Other species, now at home in more southerly regions, will need to move northward, as their accustomed haunts become uncomfortably hot. In places such as the North American west coast such migration would be impeded by almost insurmountable man-made obstacles in the form of massive cities like San Francisco and Los Angeles, which interrupt the continuum, the cline, of available habitat.
In such cases we might initiate preemptive, 'assisted' migrations, which I have investigated over the past years in my 'Neo-Eocene' project – a logged-over acreage in coastal British Columbia, where I have planted hundreds of young coast redwood, giant sequoia, walnut and gingko trees, all native to more southerly zones, in anticipation that continuing warming trends will create conditions more favourable to them, and less favourable to the vegetation now considered to be native. So far so good, with the coast redwoods making the most impressive progress, thriving unassisted, almost 1000 kilometres north of their closest native range. The sequoias too are making considerable gains, which is reassuring given the prognosis for their survival in their Sierra Nevada home is increasingly grim, to the extent that by some estimates natural sequoia groves are unlikely to make it through the area's shift toward permanent drought without artificial irrigation and the construction of fire breaks. Is there not a certain poignancy to the fact that we might only manage to preserve something of the primeval sublime of the sequoia groves through the epic administration of artificiality? But then the climate itself has become a human artifact. We broke it we fix it, I guess, only we can't fix it, not really, not any more. But absence makes the heart grow fonder. Which makes the Anthropocene the biggest lacuna of them all.