What will the future look like?
A reasonable question and one which the human race has spent a long time thinking about.
I felt quite honoured to be asked to participate in this year's 'Field_Notes – Deep Time' artist's residency which took place this past September at the Kilpisjärvi Biological Station in the spectacular subarctic environs of Finnish Lapland. I was part of a working group led by my pals Liz Ellsworth and Jamie Kruse and our mission was to explore the concept of 'Deep Futures in the Making.'
In many ways the bleak solitude of Kilpisjärvi proved the perfect vantage point from which to delve into 'Deep Futures,' both due to the majestic, timeless feeling of the landscape but also the unique vulnerability of the fragile ecosystem, which like others at high latitudes is likely to suffer disproportionately from the effects of anthropogenic climate change.
Perhaps biting off more than I could chew, I tasked myself with compiling what I called a 'Speculative Botany' for the future of subarctic Finland, based on what is there now and what is likely to happen in both the near and the long term.
The effects of global warming on arctic and subarctic ecosystems are already proceeding apace and in addition to the well known images of abject polar bears stranded on rapidly melting ice flows, there have been many other effects on northern biota. Here in North America, more southerly species such as robins (Turdus migratorius) and Pacific salmon are colonizing high arctic latitudes. A little to the south, vast tracts of Rocky Mountain forest are turning brown under an unprecedented onslaught of pine beetles, whose numbers are no longer kept in check due to milder winters and hotter summers.
So what about 'Deep Futures?'
Environmental conditions are changing so rapidly that I frequently get the feeling I have already woken up Rip Van Winkle style in some deep future, where the things I have long taken for granted are no longer recognizable. Like the frogs that used to teem in the ditches of my suburban Toronto childhood. They are now disappearing worldwide, their once exuberant choruses silenced by a strange new fungal pandemic. The Western black rhino has just gone extinct – all of them. Gone. Wiped off the earth by relentless poaching. Neither you nor I nor anybody else will ever have a chance to see one. We blew it. And countless other species are on the brink of the same fate.
Climatologically, the obvious effects of anthropogenic warming are now everywhere and we are seeing weather events that are routinely more extreme than anything experienced in the recent past, though they have long been in our collective imagination. Reminiscent of J.G. Ballard's dystopian 1960's fantasies – 'The Drowned World' and 'The Wind from Nowhere' we now live in a world where 'superstorms,' extreme flooding and the disappearance of Arctic sea ice are the new normal
With the scientific consensus emerging that global temperatures will continue to rise by at least 4 degrees C by the end of the century, I wondered what might happen at Kilpisjärvi, which presently finds itself in a delicate mountain birch forest ecosystem, where normally the snow doesn't melt until June. Already it is clear that with less severe winters, plant productivity and abundance in many far northern areas has significantly increased.
What novel re-groupings, permutations and combinations might occur as the climate of Kilpisjärvi warms up? Will the existing plants grow more rampantly or will they begin to find the new conditions intolerable and fade from the landscape? There are some basic principles I thought I could extrapolate from. For example, rapid climate change is likely to favour generalists, often weed species, capable of riding out a wide variety of conditions and quickly colonizing disturbed habitats. Cold-loving, habitat specific specialists will have a much more difficult time and would disappear from many of their more southern haunts.
How long might it take for major changes in the biota to occur? There are so many things to consider. For example, birds can colonize newly habitats quickly, which in turn will be a vector for certain plants whose seeds travel long distances inside their digestive tracts to be deposited on new terrains. Wind borne seeds and spores are likewise rapidly distributed. We humans are perhaps the greatest agents for the dispersal of species, transporting them deliberately or by accident, through the shipment of goods, gardening and even on the soles of our shoes. The deeper the future, the more daunting the range of possibilities, so I thought it reasonable to start with the situation in Kilpisjärvi at the present day and project onward into deeper and deeper horizons of time, with a corresponding decrease in certainty.
I am an artist, not a scientist, so I knew my speculations would be more qualitative than quantitative, but I figured it was worth trying to extrapolate obvious trends and imagine how they might unfold in both the near and long term.
A few hours after first touching down in Helsinki and pleasantly catatonic from the jet lag, I took a long walk through the venerable Kaisaniemi Botanical Garden. It is a habit of mine to visit the botanical garden of any city that is new to me and I was curious to see what the Finns managed to cultivate at such a high northern latitude. And I wanted to establish some sort of a baseline for what would typically constitute northern flora. Admittedly Helsinki is a good deal further south than Kilpisjärvi but is nevertheless considered the world's most northerly metropolitan area and I reckoned the climate of Kilpisjärvi would begin to drift toward that of present day Helsinki as the planet continues to warm. Established in the early 1800's Kaisaniemi has the agreeable and lush historicity of an old, lovingly maintained park, a world within itself of specimen groves and steamy glasshouses, where the casual stroller or the committed anomophile can each commune with the diverse array of the botanically possible.
From the very beginning gardeners have always pushed the envelope of what can be cultivated in a given climatic zone and Kaianiemi is no exception. For example there is an enormous walnut (Juglans regia) tree, sprawling and laden with nuts far to the north of its usual more temperate haunts. I was delighted to see one of my favourite living fossils, the monotypic Sciadopitys verticella, commonly referred to as the Japanese umbrella pine, as it is now only native to a small area of Japan. Yet during the Eocene Thermal Maximum 50 million years ago there were whole forests of these trees in the vicinity of what is now Finland and the resin they produced was so ubiquitous it makes up the bulk of the area's famous Baltic amber. During that long ago time, the average temperatures on the earth were extemely high, as high, in fact, as it is expected to rise again within this next century, due to man-made global warming. Could it be that Sciadopitys might one day hop Kaianiemi's garden fence and make itself at home again in the forests around a newly tepid Baltic? I wonder…
In contrast to how compact everything generally seems to a North American traveling through Europe, the distances in Finland are quite vast. The day after arriving in Helsinki, I was en route on the seven hour trek to Kilpisjärvi, which began with a one hour flight north to Rovaniemi,'the hometown of Santa' and the capital of Lapland (not necessarily in that order), followed by a six hour bus ride on a two lane highway to almost the 70th parallel. As the scenery passed by and the tires hummed and the vegetation grew more sparse, we were able to acquainted with each other and start thinking about how we might address a topic as vast as 'Deep Time.'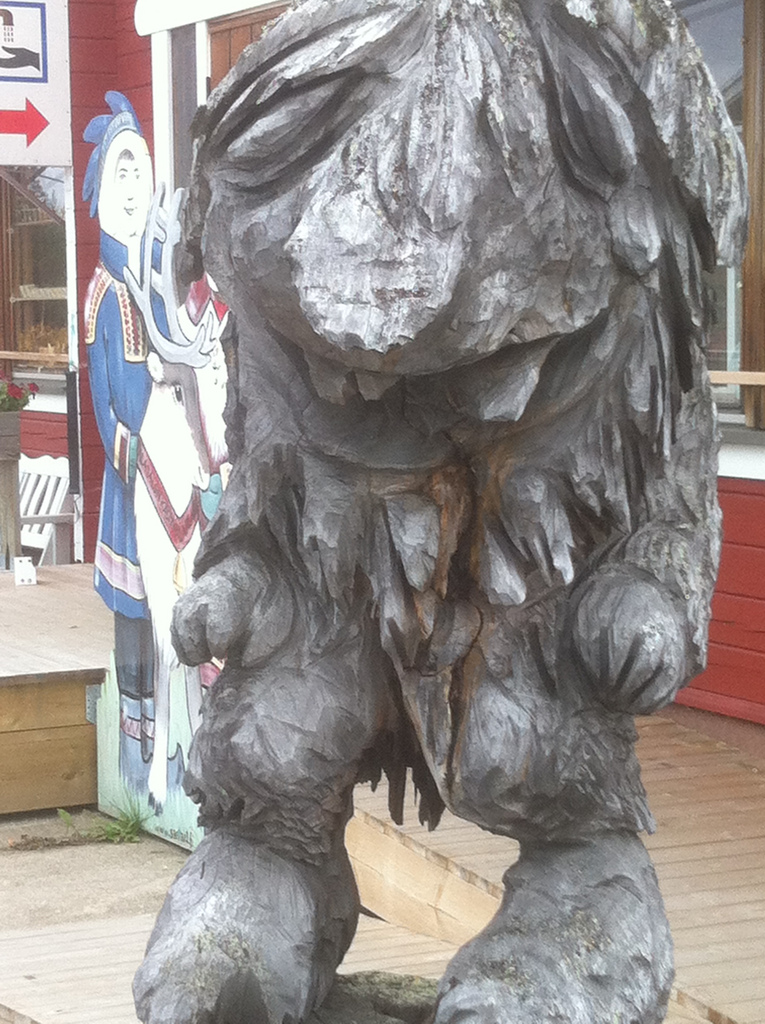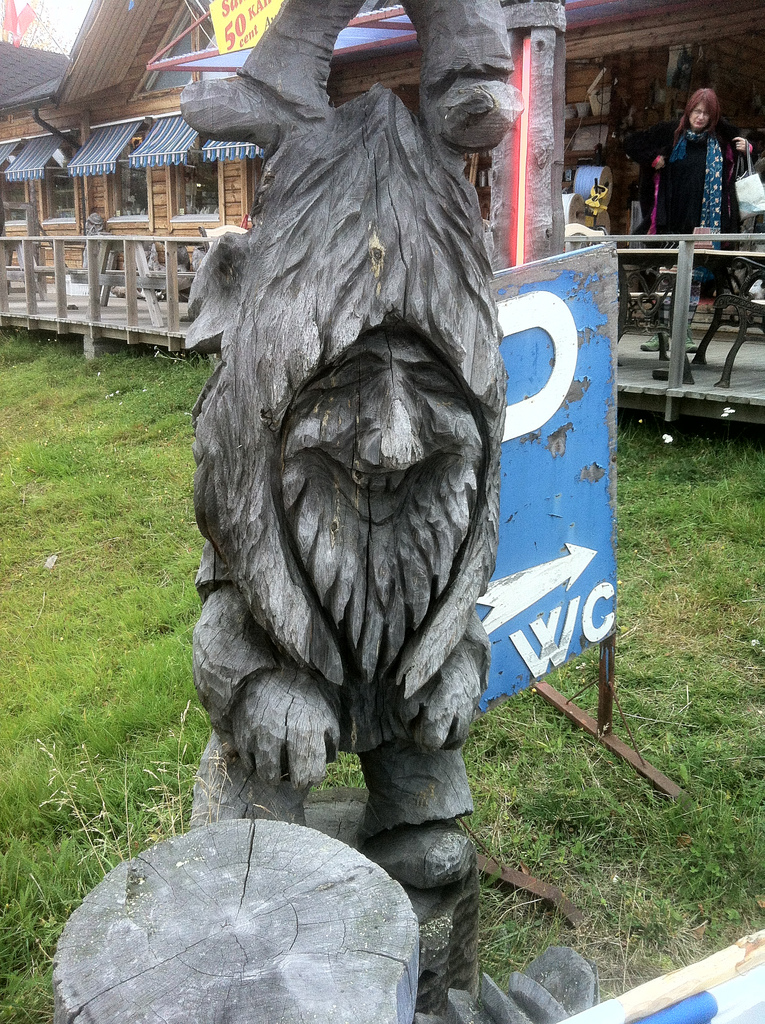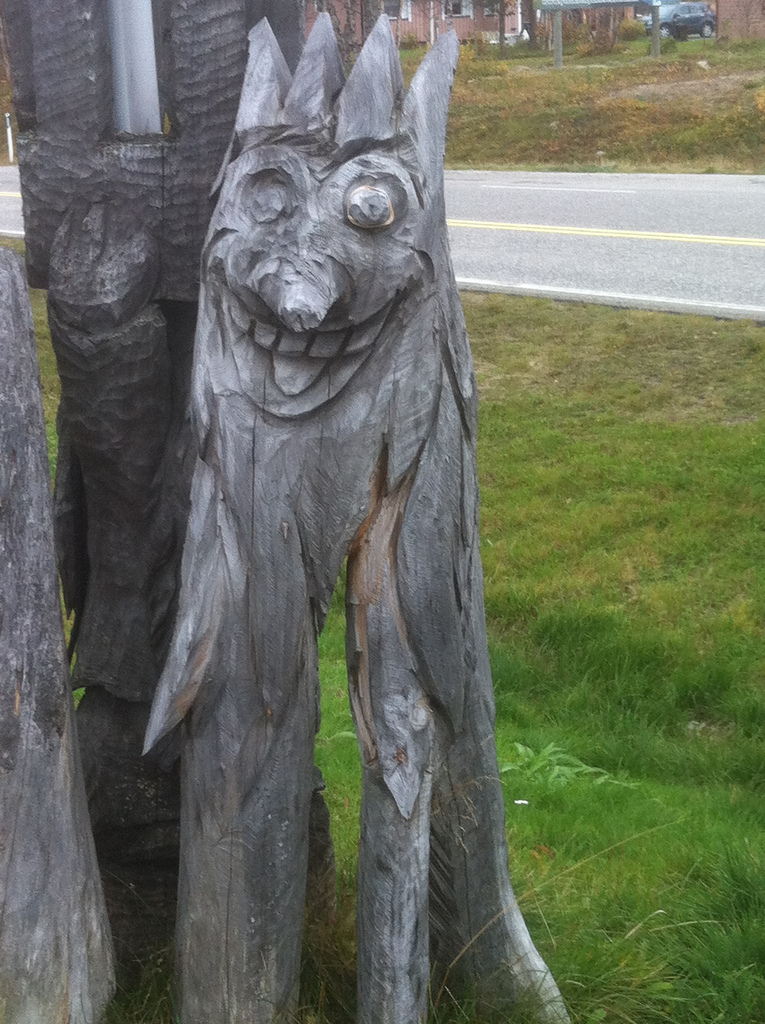 On a more prosaic note: I loved the bizarre and über-Nordic aesthetic of the coffee-shops in roadside Lapland, a few of which we were able to sample on the bus ride to and from Kipisjärvi. Amazingly, there is a pension for Thai food up here. Their secret ingredient – reindeer meat!  And by the way, the wood carvers are definitely on drugs – perhaps some taiga version of the magic mushroom…  Check out the whacky wooden dwarfs that are the regional specialty. The carving style out-Seusses Doctor Seuss! Oh those long winters! I think I understand the flying reindeer now…
An hour or so from our destination, and the landscape morphed into a vast, misty expanse of exposed rock, russet heath lands and dwarf birches, their branches stripped of all but a few remaining yellow leaves despite it being only mid September – still, as far as the calendar is concerned – summer! When we finally pulled into the Kilpisjärvi Biological Station it was almost dark. The air had a thin, alpine quality about it and the massive silhouette of the Saana fjell loomed over us like some giant recumbent beast. We were told we'd be climbing it the next day and we collapsed into our beds…