At the very end of March, I went back to Mississauga, my home town, city, conurbation (I don't even know what to call it!) to visit my elderly parents. My dad was up for a heritage award for his work in a campaign to restore the steeple of the church, (Presbyterian), he and my mother have been attending for years. A charming little brick edifice dating back to the 1870's, its steeple was smitten from the tower by lightning in 1920, and then hastily replaced with an ignominious asphalt shingled pyramid, which stayed there for the next 90 years. As a retirement project, Pop, who was, by the way, brought up a Swabian Lutheran, organized getting a replica of the original (wooden) spire made in lightning resistant steel and he and the other parishioners were thrilled to see it hoisted into place by a giant crane. The result, it has to be said, is quite handsome as the church sits atop a hill and has now regained its long lost stature as a landmark, with a much more commanding presence over the nearby houses and the vale of the Credit River, a visible link to the past in a context in which most such points of historical reference have been wiped out.


On the unseasonably hot (it was only the end of March after all!) globally-warmed morning of the award ceremony, we drove to Mississauga's strangely triumphalist, Adolf Speer inspired city hall, left the car in its subterranean catacombs, made our way across a desolate plaza and eventually entered the council chamber where we settled into the gallery to wait for dad to be summoned. There were several bonhomous speeches about the value of Mississauga's heritage, but my God, I thought, almost the entirety of the places I had known there as a boy had long since been obliterated by strip malls and low rise industrial parks. Yet dad got his award and deservedly so, from the mayor no less, a minuscule lady, so ancient she seemed almost animatronic in her proficiency, performing her duties, astonishingly well, I might add, despite a tubercular sounding cough.

'She's been ruling Mississauga with an iron fist for 33 years,' I heard someone say. 'And everyone's damn proud of her – Damn proud!'


Perhaps I caught a whiff of UBIK, or something, but as I sat there I was overcome by a strange feeling as if I've been asleep for a long time and had awoken, like Rip Van Winkle, into a distant future. It is 1968 and I'm a boy standing in a warm field of yellow goldenrod and mauve Virginia asters and into the shimmering distance sweeps a blonde expanse of pasture and corn stubble and here and there, a weathered grey barn or a small woodlot punctuated by the vermilion of sumac and swamp maple. Above it all, the crows caw and wheel and a contrail dissolves slowly into the great blue dome of the sky, reminding me that it is, after all the jet age. It was a dirt road that brought us here, my father and I, and we have come to shift the wire pens that contain the flock of unruly geese we are raising in a not-very-profitable after-work venture that dad had concocted to 'help make ends meet,' as he likes to say. The farm has been rented by a certain Mr. Baker, a taciturn workmate of his from the factory at which they spend their days supervising the machinery that spits out concrete blocks onto an assembly line and he is in the background right now quietly, as is his manner, tending a couple of horses that belong to his teenaged daughters.


It was all so clear to me but – so what? Forty four years later, everything has changed. Everything that is, except the contrails, which are still there, only there are many more of them. Driving around with my now elderly parents, dad points out a parking lot and says 'do you remember Oliver, the place where we raised the geese?' – just one parking lot in a continuum of parking lots that have entombed the soft earth of my boyhood fields beneath their genericizing tarmac. There is nothing, absolutely nothing left of the bucolic landscape I once loved – the red brick farm houses with the white trimmed front porches, their quiet lanes overarched by the green tunnels of elm trees, the raucous retort of ring-neck pheasants erupting skyward from the shrubbery as we passed them by, the dust billowing behind us with me in a heat daze in the back seat , the bobolinks, the meadowlarks, the ancient snapping turtles, covered with water moss, with their eyes tearing up and their anuses straining as they exuded their glistening ping pong ball eggs into the holes they laboriously dug into the gravel of the railway embankment, holes dug with their hind feet, holes they would never see for their precious eggs that also remain invisible to them, because these sad and ancient beasts never looked back and after they deposited their precious burdens they'd track like weeping suitcases across the dirt roads and fields, back toward the mire of their sheltering marshes, the mire which is all now gone and has been gone for years and years.


There are few of us left now who remember the mire and the burble of the marsh wrens and the swoop of the bank swallows  attending to their burrows in the grey clay bluffs by the river. Was it all worth losing? Not that we had any choice. We're having coffee now, mom and dad and I. They are old but the three of us were all born in the same last century, they closer to the beginning of it and me, toward the end of its middle. 'What's that?' I ask, pointing to a sort of mountain rising up on the other side of the highway, a yellow bulldozer creeping up its summit, spewing red dust across the white blue of the Southern Ontario sky. 'It's topsoil,' says dad. 'They pile it there and sell it back to people.' 'Oh,' I reply and watch a paper cup blow slowly across the coffee shop parking lot till it hits a concrete barricade and then just sits there quivering.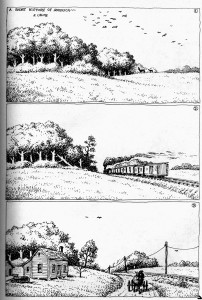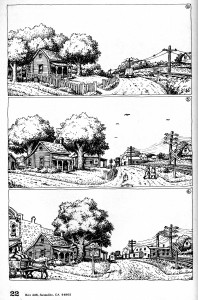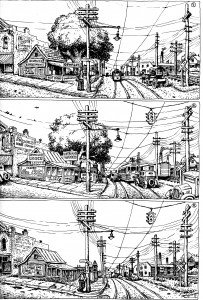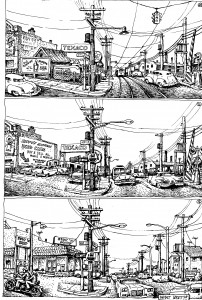 Robert Crumb's version of North American History from Fall 1979's Coevolution Quarterly